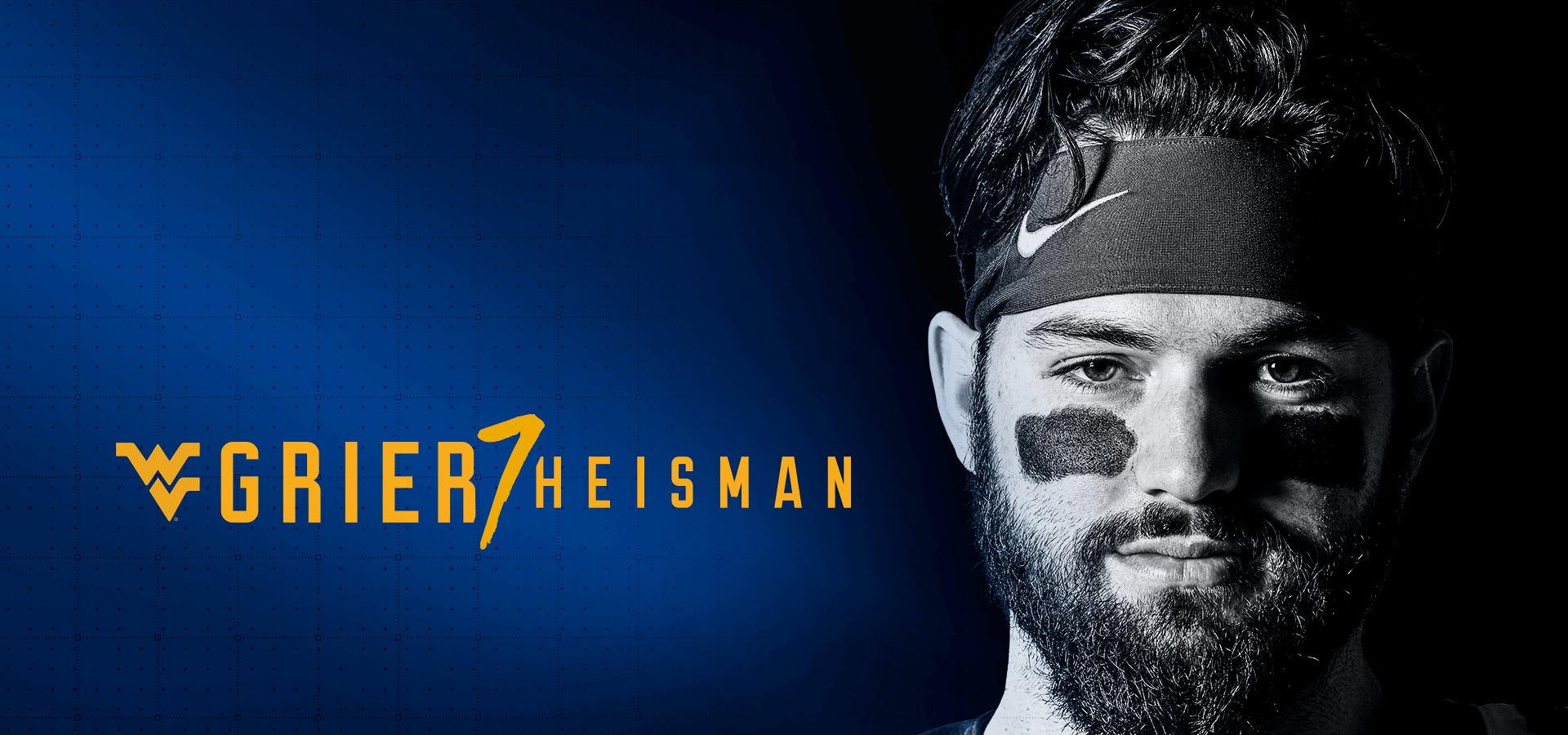 What They're Saying

Christmas came early for Dana Holgorsen last December when Will Grier announced he would be coming back for another season in Morgantown. After throwing for almost 3,500 yards in 2017, Grier will be one of the very best quarterbacks in the Big 12 if not THE best and gives the Mountaineers a legitimate shot at the conference title. If he can stay healthy we'll be talking about Will Grier at Heisman Time.
Tony Barnhart, The SEC Network

Will Grier should be the best quarterback in college football this year. He can make all the throws and create exciting plays down the field at any point in the game. In my opinion, he'll be a front runner for the Heisman Trophy in 2018.
Anthony Becht, ESPN College Football Analyst

In a conference that routinely features prolific offenses led by highly productive quarterbacks, I think the torch bearer this season for the Big 12 has to be Will Grier of West Virginia. Beyond his skills as a passer, I love his football savvy and competitive spirit!
Todd Blackledge, ESPN College Football Analyst

Without question, Will Grier is the marquee quarterback of the Big 12, which by definition makes him a legit Heisman candidate. Besides being an accomplished passer in all extremes of weather, he has outstanding leadership skills and a toughness that sets him apart. It's his time.
Kirk Bohls, Austin American-Statesman

Will Grier is a legitimate Heisman Trophy candidate. He is really good. He's going to have a great year. He has a great receiver and a great left tackle – what more do you need? … he has a great offensive line, a great offensive coordinator and a great head coach … I love the way he carries himself on and off the field and he has proven he is a special player.
Gil Brandt, NFL.com Senior Analyst

My biggest thing is the respect factor that I have for him when you really break the video tape down … When you play against him, you watch the intangibles from especially the arm strength to his ability to really carry that football team is really impressive. A lot of respect for who he is and certainly a lot of respect for his game … he owns his system and he is really comfortable with what his being asked to do … he knows his answers and a lot of times he puts his team in the best position to be successful.
Matt Campbell, Iowa State Head Coach

In a season where there are scant obvious choices for preseason All-America, quarterback Will Grier stands out. It's clear he made the perfect choice in transferring to West Virginia. The coaching he has gotten there from Dana Holgersen and Jake Spavital has made him one of the nation's best. Only seven players had more touchdown passes than his 34. I'm looking forward to a dominant season from a first-class guy.
Dennis Dodd, CBS Sports

I think Will Grier and WVU are primed for a big 2018. Grier's ability to extend plays and hit big shots downfield is really impressive and he's a really good athlete back there. With him as the triggerman, this should be one of the most explosive offenses in the country.
Bruce Feldman, Fox Sports

Will Grier was worth the wait in 2017 -- after nearly two years out of action he was sensational in providing West Virginia its best quarterback play since the Geno Smith days. Grier will be must-watch in 2018, with a talented supporting cast and creative offensive coaching on top of his dynamic playmaking. If you see a preseason Heisman Trophy candidate list without Will Grier on it, that's a bad list.
Pat Forde, Yahoo! Sports

When West Virginia has been at its best since joining the Big 12, it's been because of strong quarterback play. If Will Grier builds on a big junior season, he could be the best the Mountaineers have had there in a long time. Heisman Trophy bound? It's not out of the question. And if Grier gets off to a big start, he'll certainly be in the hunt.
Tim Griffin, Cox Media Group

Dana Holgorsen has the perfect fit for his thrill a minute offense: a talented thrower who loves to compete. When Grier decided to return for his senior season, West Virginia became a legitimate threat to win the Big 12, and Grier became a legitimate threat to win the Heisman Trophy.
Matt Hayes, Bleacher Report

I have such admiration for Will and his journey. From one of the top high school quarterbacks his Senior year, to having an unfortunate setback at Florida, to regaining his confidence and becoming one of the top players in college football in Morgantown. I'm really looking forward to seeing his continued growth this fall.
Kirk Herbstreit, ESPN College Football Analyst

I like Will … I think he's a great player … He's a fun kid to watch play ... He's tough and very accurate … WVU's done a great job of developing him … I'm a big fan of his.
Kliff Kingsbury, Texas Tech Head Coach

Will is a tremendous player and will likely be one of the most productive quarterbacks in the country in 2018. This offense with Will in the driver's seat has the potential to be one of the best in the country and Will has a chance to put himself right in the mix for the Heisman trophy. With quality non-conference opponents and wonderful late season match-ups this could be a special year for the Mountaineers due in large part to their outstanding quarterback.
Joel Klatt, Fox Sports College Football Analyst
His greatest strength is his ability to throw the ball and put it exactly where it needs to be. Obviously, he is complemented by a tremendous corps of wide receivers. He also has that "It" factor. He has a certain swagger about him. He's got the beard going and is starting to look like the Mountaineer. I don't know if Dana might require that out of his quarterbacks. He has that "It" factor and a has a lot of things going for him. I really think WVU is a dark horse team to win the Big 12 title in the Big 12 this season.
Brett McMurphy, College Football Insider

It's hard not to picture West Virginia's Will Grier as being one of the faces of college football when the season kicks off this fall, especially coming off the spectacular season he put together in 2017. The Mountaineers quarterback is surrounded by plenty of playmakers on the offensive side of the ball, increasing his chances of having one of the best seasons in school history as well as possibly making a serious run at some of the sports top awards including the Heisman Trophy.
Matt Murschel, Orlando Sentinel

Will Grier is uniquely mature … He's further along in life than most players his age, having a wife and child already … But his experiences also have given him a new perspective … Having been forced to leave Florida at the time he did and having to look elsewhere and make some grown-up decisions as a youngster to atone for some past poor decisions … completely different kind of youngster that what were all used to dealing with playing college football … it's to WVU's benefit that he has a certain level of maturity and eyes-wide open approach going forward … I'm a fan ... I'm really looking forward to watching him play.
Rick Neuheisel, CBS Sports College Football Analyst

Will Grier's decision to return to West Virginia for another year could be one of the most significant factors in the Big 12 in 2018. With other contenders breaking in new quarterbacks, the Mountaineers have one of the best in the country.
Ralph Russo, Associated Press

By the end, I think people will be talking about Will as one of the best quarterbacks. I definitely see him as an NFL quarterback. He attacks every day like he wants to get better, so I think he'll just keep getting better.
David Sills V, West Virginia Wide Receiver

Will Grier throws the prettiest ball in America, and he seems to have a sixth sense that allows him to slip away from pressure. When you combine all that with the kind of receivers West Virginia has, you have big numbers and a chance to win a championship.
Andy Staples, Sports Illustrated

I was pleased in all reality … it gave me an even greater appreciation … I always appreciated him a great deal for a lot of different reasons … part of it was the quality of player he is … Also I really appreciated his leadership … when I heard he was coming back I was pleased because so many guys want to jump out without taking into consideration the fact that they could enhance A) their own livelihood so to speak and B) they could have such a tremendous benefit on the program that put them in the position to be the quality NFL player that they could be and for him to choose to come back told me there was something about his unselfishness there, that intrinsic value that's highly important for everyone, player or not. He certainly has demonstrated that.
Bill Snyder, Kansas State Head Coach

Will Grier figures to be the best quarterback in the Big 12 in 2018. And that automatically makes him one of the best quarterbacks in America. Expect big things out of the Mountaineers.
Berry Tramel, The Oklahoman

Will Grier is easily the most accomplished quarterback returning in the Big 12. And with a full season of experience finally behind him, he's only going to get better, too. That, combined with the array offensive weapons he'll have at his disposal, is why Grier is a name to watch in the Heisman race.
Jake Trotter, ESPN.com